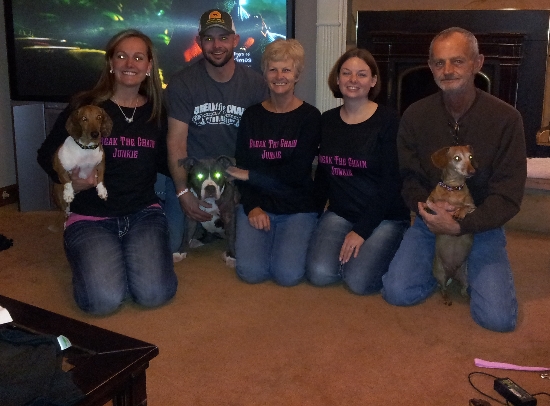 2009, From Break The Chain Pit Bull Rescue..
Adopting from BTC has been a Great Experiance. I could tell right away that they really care about finding these dogs a good loving home.. Jimmy and Leslie have been great, Seemed like Anytime I had a question they were more than happy to try and help me.. Tank is Honestly the most Loyal and Loving dog I have ever had, I take him just about everywhere with me. I have two younger sister ages 19 and 12 and they just adore him and he has been so good with them.. All of my friends have dogs and Tank has got along with everyone of them.. I could not be Happier about adopting him.. He truly gives meaning to Mans Best Friend
ROSCO AND HIS NEW FAMILY THE HICKMANS
Our experience with Break the chain has been a life changing experience. It has opened our eyes to the Abuse and cruelty that theese loving and sweet animals go though. Our American PitBull Roscoe is far from being the vicious and untrustworthly animal that uneducated people thank thay are. He is smart well behaved and the most sweetest K9 i have ever had or seen.Our visit to break the chain was fantastic they introduced us to alot of different pitbulls thay all where loving and sweet but when roscoe came in to the room i new he was the one for my family and i.Roscoe is a great friend good times or bad he is always by our side. He has made a great friend for my two small children he would never hurt them or stop being there friend like most people would. Roscoe will always be near and dear to our hearts and will have a 4 ever home. PitBulls give a new meaning to MANS BEST FRIEND. I know first hand that people will hurt be for a pitbull will.This is something you can see for yourself just look at all the cruelty theese animals and others go though. JUDGE THE DEED NOT THE BREED.
STAR AND HER NEW MOM AMY
Hello, my name is Amy Roberts. I adopted Star April 05, 2009. Jimmy and Leslie gave me the best gift ever. Ive been given the chance to love and care for the most precious pit. I met Star on April 04, 2009 at one of Break The Chain events. From the moment I saw her I fell in pit love.
Leslie and Jimmy seen we had an instant connection. I wasnt judged for what I dont have. I was seen for the person I am and the fact I will love Star for all of her days. They have been a great support in any questions Ive had and always ask about Star and Cheif (my other pit).
Ive seen into depths of their hearts when it comes to loving animals. They work endlessly to save all the Pitts they can, a labor of LOVE. They have been a blessing to me.Cheif and I feel like the Woodys are Santa Claus. Because every morning is like Christmas morning with Star giving us wake up kisses.
I thank them silently every time I look into her beautiful brown eyes. For if you look deep enough, you can see Jimmy and Leslie in there.
Sincerely,
Amy Rachel Roberts
BOGEYS NEW MOM JAN
I adopted BOGIE on Feb 21, 2009, after loosing my baby of many years, on Sept 23,2008. All my family are Pit lovers. After much consideration of puppy vs adoption, I chose to try the adoption route. It was not easy. I starting looking at places to adopt. I was shocked and disappointed in what i saw. Being determined to keep trying I found: SAVE THE PIT BULL and BREAK THE CHAIN PIT BULL RESCUE. I looked at pictures for weeks and followed the myspace pages. I kept going back to the pictures of Bogie. I contacted Leslie and it went from there. I saw competence and knowledge. I had seen ignorance in both directions, concerning the breed. I have confidence in BREAK THE CHAIN RESCUE and the Woodys.
Bogie has become part of my family. He has learned to give and receive love and a few manners along the way. Adoption is rewarding. I would adopt another if i could. There is not a more loyal dog.
jan